Desde que Youtube instaló su nueva interfaz mucha gente en España se está quejando de la lentitud en el visionado de videos. No se sabe si son los proveedores empezando a restringir el streaming o si son las operadoras (hay casos con todas). El caso es que la gente se desespera preguntándose si es su conexión, su red, su ordenador…
Youtube ha puesto este servicio que te informa de la velocidad de descarga efectiva de videos en tu equipo…pero siendo la propia afectada..no es muy imparcial.
Con este truco que presentamos hoy, no sólo el streaming de Youtube  mejorará mucho, sino de cualquier servicio de streaming que use flash (megavideo etc).
Para ello abrid un video de youtube, y pinchad con el botón derecho en la pantalla. Elegid la opción "configuración" y, de los iconos en la parte inferior elegid el tercero. Ahí controlaréis con una barra deslizante la cantidad de información que Youtube descarga a vuestro PC. Si tenéis espacio (normalmente si) deslizadla a la derecha del todo.  Después elegid cerrar, cerrar el navegador y volved a abrirlo.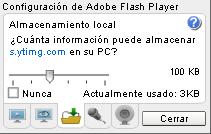 Con este truco yo he podido ver por primera vez videos sin saltos con mi conexión de 1 Mb (gracías Telefónica por no mejorar la infraestructura en Madrid). El resultado es muy apreciable.
English: Youtube streaming in Spain has been really sluggish since they changed to the new interface. Nobody knows if the providers are starting to limit streaming as they are warning they will do, or if it's youtube's fault…but it's happening.
With the following trick, you'll manage to accelerate, not ony Youtube's streaming but any service depending on flash (such as megavideo). We've finally been able to watch videos on youtube decently with our 1Mb connection.
How to do it

:  Open a Youtube video, right click on the screen and click on settings. Then go to the third icon at the botton and move the slider to the right. This will increase the amount of information Flash can download on your computer. Click on close, close the browsers, open them again and try a new video. It worked miracles for us.
Os recomendamos los siguientes productos relacionados con la informática: