Por petición popular, vamos a poner una serie de posts sobre la customización del perfil de Facebook, empezando por los e-mails.   Esperamos que con esta serie de artículos la gente aprenda que esta red social (y todas) es MUY útil si se aprende a gestionar.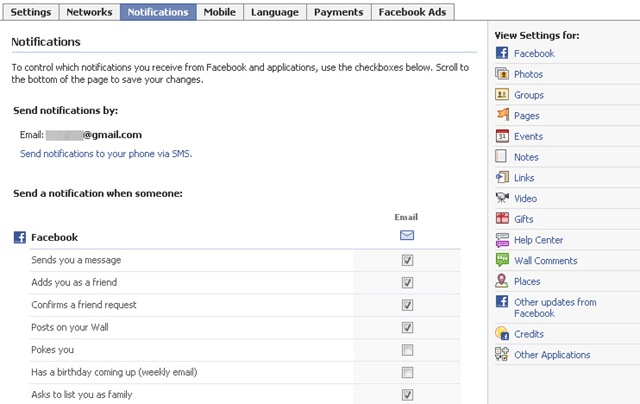 Una de las primeras cosas que notamos cuando creamos el perfil de Facebook es la gran cantidad de notificaciones que llegan a nuestro correo. Tanto que nosotros, en las primeras versiones de FB, tuvimos que crear una regla en el correo para que las eliminara. Ahora es todo más sencillo.
Para esto tenemos que ir a Cuenta>Configuración de la Cuenta y pinchar en .  Aquí veremos una serie de casillas con las opciones para marcar/desmarcar. No hay ningún problema con desmarcar todas   si tienes FB en el móvil o accedes a menudo. Nadie se entera de lo que desmarcas. Además puedes elegir la opción de notificaciones en el móvil (ni idea por qué alguien querría semejante cosa). Fácil no?
English:
We are going to dedicate, by request, a few posts to Facebook customizatión. By doing so we hope to make people feel secure in this social network and understand it's great advantages IF we control it correctly.
One of the first things we notice when we create a FB account is the amount of notifications we receive by email. It's so annoying that we had to create an email filtering rule to automatically delete all FB emails. That was on earlier versiones, now it is much easier.
Go to Account>Settings>Notifications or click here.  You'll see a lot of options.  Just pick what notifications you want to be send to your mail (remember that no one will know your picks), and click "Save Changes" at the end.  You can also setup SMS notfications (which I don´t understand why anyone would want to ). Very simple isn´t it?
Os recomendamos los siguientes productos relacionados con la informática: