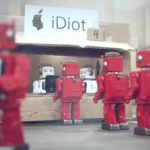 Cuando salieron los iPhone eran una muestra preciosa de tecnología punto y diseño a un precio elevado. Y se convirtió en una "marca de status" donde parece que si tienes un iPhone (lease con voz de pija tonta), tienes algo más que el común de los mortales.
Después salió Android como sistema operativo modificable y no restrictivo. Como era obvio el resto de marcas se pusieron las pilas, en especial Samsung que ha sacado móviles de todas las gamas desde baratos a móviles de alta calidad.
Los chinos también se dieron cuenta de este mercado y han empezado a sacar móviles de gran calidad a precios muy por debajo del resto (tenemos quad-core a 80€ y hay rumores que están sacando 16-core).
La gente se está dando cuenta que puede tener un móvil muy potente por entre 100-300€ y no pagar el precio de un mes de alquiler (500-800€) pagando marca y además por un sistema "capado".
El presidente de Google Eric Schmidt ha sacado ayer una guía de cómo pasarse de iPhone a Android porque según el "Many of my iPhone friends are converting to Android" (bueno, que va a decir).
Y ayer estuve viendo un corto MUY bien hecho que refleja bien la obsolescencia programada y la tontería del "móvil como status".
Como se ve está cambiando mucho la mentalidad (normal en tiempo de crisis). Por menos han caído empresas grandes, o cambia de actitud (parece que lo hace en los ordenadores) y produce algún modelo asequible o puede pasarle como a Nokia, Blackberry y muchos otros.
Os recomendamos los siguientes productos relacionados con la informática: