Ayer un usuario de Twitter mandó un mensaje a Apple indicando que había encontrado un GRAN fallo de seguridad en la última versión del sistema operativo, High Sierra. El fallo hace que cualquiera, con unos pocos clics, pueda ser administrador de tu equipo (y por lo tanto hacer todos los cambios que quiera) de manera muy sencilla.
Lo hemos probado y funciona.
Apple lo ha confirmado y mandado lo siguiente:
"We are working on a software update to address this issue. In the meantime, setting a root password prevents unauthorized access to your Mac. To enable the Root User and set a password, please follow the instructions here. If a Root User is already enabled, to ensure a blank password is not set, please follow the instructions from the 'Change the root password' section."
Esto afecta a todos los usuarios que tengan este sistema operativo.
El fallo es muy sencillo de aprovechar (en el vídeo del post encima de estas líneas se muestra). Entras en Preferencias del Sistema > Usuarios y Grupos y ahí entra con el usuario root  (es el administrador de los sistemas Unix/Linux) y sin contraseña. Tras unos pocos intentos te permite acceso.
Solución:
La solución que recomendamos los técnicos, y Apple, es ponerle una contraseña a este usuario root. Para ello sigue las instrucciones de este artículo: https://support.apple.com/es-es/HT204012 donde pone Cambiar la contraseña root.
Nota: no deshabiliteis el usuario root como han hecho algunos porque no soluciona el problema.
Lo tienes explicado en este vídeo también:
https://twitter.com/reneritchie/status/935627307565355014?ref_src=twsrc%5Etfw
No está claro si Apple va a mandar una actualización pero con el fallo de seguridad tan enorme (de los más sencillos y evidentes que hemos visto últimamente) que es, deberían.
Y para acabar, para los frikis, os dejo una imagen de un twittero que nos ha encantado: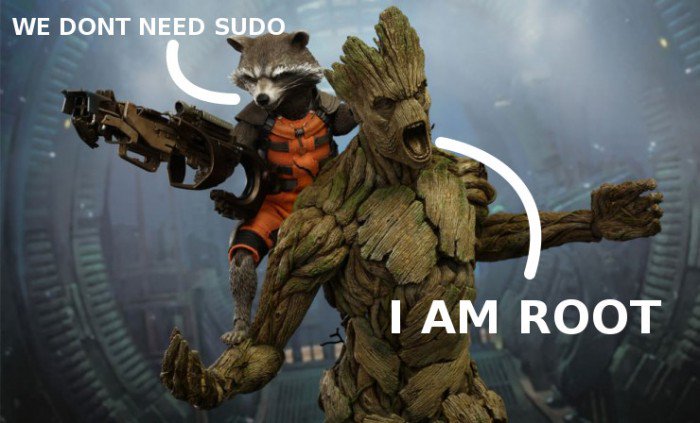 Os recomendamos los siguientes productos relacionados con la informática: