Hace unos días mi ordenador hizo una revisión de mantenimiento y detectó que el Intel Management Engine Interface daba error 10. No podía inicializar:
Intel management engine interface The device could not be started (code 10).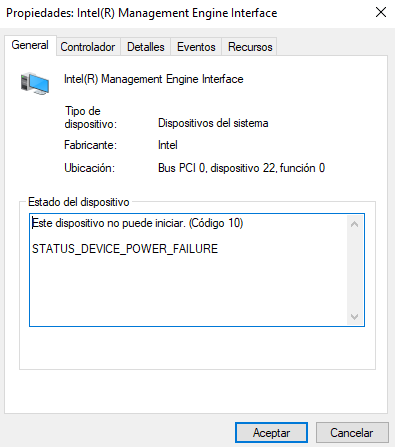 En algunos ordenadores esto podía llevar a otros errores, sistema lento etc. Yo lo solucioné porque no me gusta tener errores en mi sistema.
Tras investigar descubrí que la causa es la versión del controlador. Suelo actualizar mis controladores con Driver Booster, y éste había instalado la versión 11. Esta parece ser que da muchísimos problemas con Windows 10.
La solución es sencilla. Busa en la barra de Windows Drivers y pincha en Actualizar Controladores de Dispositivo.
Busca el driver de IMEI (lo tendrás con una exclamación amarilla). Dale a botón derecho, Propiedades, pestaña  Controlador y Desinstalar el Dispositivo.
Una vez desinstalado, ve a Acción (en el Administrador de Dispositivos en el que estabas) y pincha en Buscar cambios de Hardware.
Debería instalar la versión por defecto de Windows 10 que es la 9.5 y no da errores.
Si no es así, buscad esa versión en la web (en Intel por ejemplo) porque es la que funciona con Windows 10.
Os recomendamos los siguientes productos relacionados con la informática: