Si usáis Google Drive en el ordenador (con el programa) puede que os hayáis encontrado hoy con que no tenéis el cliente de escritorio, sino un icono que dice Google Drive is now Backup and Sync. Y si intentáis ejecutarlo os da el siguiente error. Nos ha pasado a varios clientes.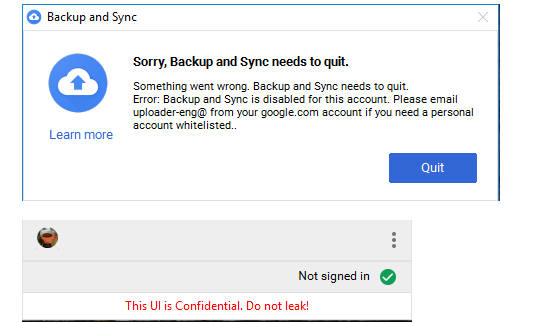 Por lo que parece Google ha metido la pata, y ha actualizado el cliente por un programa que tienen en pruebas (en un futuro supongo que harán el cambio). Y el programa nuevo no funciona 😀
Podéis ver todo el proceso de la incidencia de Google aquí, y cómo le ha pasado a  mucha gente.
Solución:
Por lo que dice Google lo han solucionado y debería actualizarse de nuevo el programa a Google Drive. Pero si quieres adelantarte, o no ocurre, tienes que desinstalar Google Drive y Backup and Sync e instalar Google Drive de nuevo descargándolo de este enlace: https://www.google.com/drive/download/
A nosotros (y por lo que parece a muchos otros) no le funciona con reinstalar, hay que desinstalar y volver a instalar. En principio debería conservarse la configuración porque esta se guarda en una carpeta en el perfil del usuario.
Os recomendamos los siguientes productos relacionados con la informática: