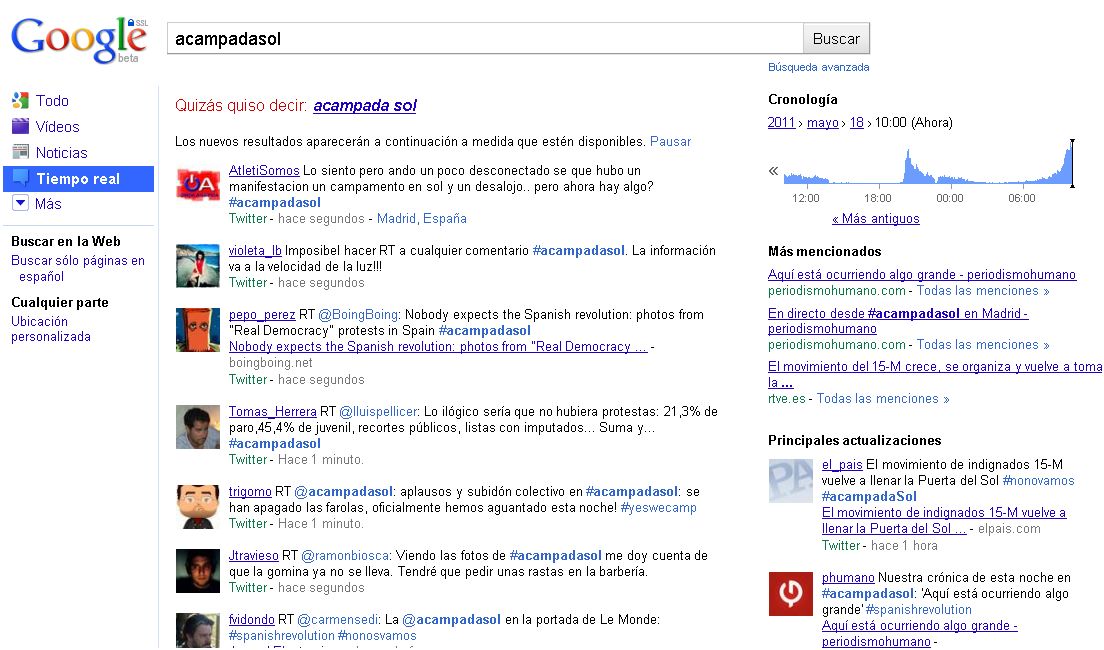 Tras lo ocurrido en Egipto, Túnez y estos días en España (días 15 y 17 de Mayo con los movimientos de Democracia Real Ya) -movidos principalmente por las redes sociales – he sentido algo de pena al pensar en la cantidad de gente que no tiene cuenta de Twitter. Los acontecimientos de los días 15 y 17 de Mayo se han seguido en directo  y de manera muy activa desde Twitter con retransmisiones desde móviles y fotos publicándose al momento. Nada o casi nada aparecía en los medios (según me cuentan, yo ya no tengo TV) o aparecía al día siguiente. Y la gente se lo pierde.
Por eso mismo hoy quiero dar una opción para aquellos que no tengan cuenta de Twitter para que sigan estos movimientos y se mantengan informados con los nuevos telediarios (las redes): usando Google. Seguramente después de ver lo que se cuece, acaben abriéndose una cuenta y uniéndose al patio.
En Twitter,  cada vez que pones un comentario sobre un tema lo etiquetas con un hashtag de esta manera #tema: por ejemplo #nolesvotes #nonosvamos, #acampadasol o #spanishrevolution que son los más activos estos días (trending topics).
Puedes buscar estas etiquetas en Google. Pon el acontecimiento que quieras (te costará algo encontrar la etiqueta adecuada pero en los propios mensajes verás varias) en el buscador. Después mira en la columna de la derecha y verás una opción Tiempo Real . Si la pinchas verás todos los resultados de los mensajes de Twitter (cambiando cada pocos segundos).
Ya sólo tienes que divertirte pinchando en enlaces, otros hastags, etc etc. BIENVENIDO AL PRESENTE 😀
After all the recent events in Egypt, Tunis and these last few days in Spain (with the movement Democracia Real Ya), I've felt sad for all the people without Twitter accounts. All these movements are happening mainly in the Social Networks (Twitter being the most dynamic), and the traditional media are proving to be slow and non responsive (and controlled by other sectors). So, there's lots of people missing a lot of the action!
Today I want to give an option to all of those who don´t have a Twitter account to follow the events using the Search Engines. When writting something in Twitter we use labels called hastags: ie: these days the most used (trending topics) were #nonosvamos, #acampadasol, #nolesvotes, #spanishrevolution… 
You can go to Google, write one of these hashtags on the Search Box (at first you'll guess, soon you'll find other hashtags in the user's posts), and click on the option Real Time to the left. You'll get the results, on real time, of all posts in Twitter related to that label.
Have fun, click on the links and WELCOME TO THE PRESENT 😀
Os recomendamos los siguientes productos relacionados con la informática: