Poco a poco vamos escribiendo artículos sobre la configuración de una centralita de VOIP Asterisk (ya sabéis que en nuestro caso usamos Issabel). Hoy toca qué puertos hay que abrir en un router o firewall cuando queremos instalar una centralita de este tipo.
Puertos a abrir en el router con centralitas VOIP Asterisk ( como Issabel).
Para saber los puertos hay que entender un poco el flujo de información entre la centralita y los teléfonos en el momento de la llamada. Esto, además, os ayudará a encontrar las causas de problemas en vuestra configuración.
Para ello os dejamos esta imagen que lo resume.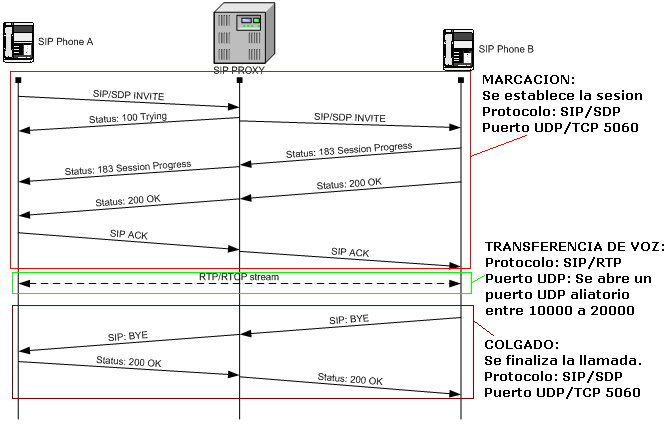 La idea es que cuando hacemos una llamada, toda la comunicación de inicio de llamada, invitaciones y otros procesos de establecimiento entre el teléfono y la centralita se hacen por el protocolo SIP/SDP. En ese caso usan normalmente el puerto de UDP 5060 (aunque conviene abrir el TCP 5060 también).
Una vez establecida la llamada, los paquetes de voz, la conversación, se retransmite, entre los teléfonos, por dos puertos aleatorios del protocolo SIP/RTP. Normalmente estos son cualquier puerto UDP entre el 10000 y el 20000.
Por lo tanto (y supongo que has dado ip fija a la centralita), tienes que abrir, y apuntar a la IP de la centralita, los puertos:
UDP/TCP 5060. In and out.
UDP 10000:20000 . In and out.
Si quieres habilitar IAX/2 es el puerto 4569 UDP.
Nota: Movistar se comunica con su proxy por el puerto 5070 y ese es el que se configura en el troncal, así que en fibras de Movistar también hay que abrir el 5070 (UDP/TCP).
Recuerda que estos puertos hay que abrirlos en todos los firewall que tengas. Es decir en el router para hacer nateo, en el del equipo de la centralita si tiene, y en los firewall de Issabel (os indicaremos cómo).
Y verás que en la configuración de Issabel tienes que poner Nat=yes si estás detrás de un nateo.
Os recomendamos los siguientes productos relacionados con la informática: