Google anunció ayer cambios en sus APIs de Google Maps que pueden afectaros si sois desarrolladores de páginas web. Sobre todo pueden afectaros al bolsillo. Si la suma de los proyectos donde estáis usando APIs de Google Maps pasa de cierta cantidad, pueden cobraros.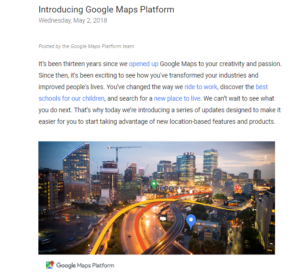 Qué implican los cambios.
Primero algunos os podréis preguntar por qué se usa una API en vez de un "embed" de html: API vs embed.
Para ponerlo de manera sencilla y muy resumida, el embed es un iframe, una pantalla incrustada del mapa de la web de Google Maps.  No se puede cambiar, ni recibir estadísticas.
La API permite personalización (logos, puntos del mapa etc) y recibir datos de acceso. Muchos temas de WordPress incorporan personalización de mapas que deben hacerse con APIs.
Hasta ahora nos permitían un uso mínimo de accesos que cubría la mayoría de las necesidades. Ahora el cambio es el siguiente:
El 11 de Junio hay que haber introducido la tarjeta de crédito en el sistema para activar el nuevo sistema de cobro.
A partir de entonces los desarrolladores recibirán $200 de crédito gratuito mensual.  "We estimate that most of you will have monthly usage that will keep you within this free tier."
Parece ser que el crédito es para todos los proyectos "your new cost will be less than $200 a month and will be covered by our $200 monthly free credit. This estimate does not include usage from other projects or keyless implementations." Vamos que con varias APIs ese crédito se te va rápido.
Más información aquí.
Conclusión.
La "gracia" (que no es ninguna) es que nos lo cobran a los desarrolladores. Es decir, tu haces una página web para un cliente, le pones el mapa con la API (lo normal es que uses tu cuenta de desarrollador, no la del cliente) y ahora, con el nuevo sistema, te cobran a ti por los accesos a las webs de los clientes.
En caso de una web de una gran empresa con desarrolladores propios tiene sentido, paga la empresa. Pero para PYMES donde haces una web y no vuelves a verles…ninguno.
Nosotros por lo menos vamos a revisar nuestra cuenta de desarrollador y desactivar todas las APIs para pasarlas a embed. De ahí, a lo mejor a otra solución gratuita.
Creemos que Youtube se equivocó mucho con los cambios de Youtube, apoyando canales de "Youtubers" y no canales de contenido más serio. Ahora también creemos que Youtube se equivoca con esto (no somos los únicos) …no nos gustan sus nuevas políticas.
Os recomendamos los siguientes productos relacionados con la informática: