El registro de Windows es como su base de datos, ahí se almacena todo lo que tiene, hace y carga. Todos los programas que instalas y desinstalas van dejando su huella. Con el tiempo, van quedándose demasiados restos que podemos limpiar con programas como CCleaner (cuidado con los limpiadores de registro…a veces eliminan entradas necesarias, no es el caso de CCleaner).
Pero aunque lo mantengamos limpio se quedan huecos y espacios por estas modificaciones, y la información se desperdiga. Esto hace que el registro sea cada vez más grande y pesado, tarde más en cargarse y más en encontrarse algo en el. Así se ralentizan el sistema operativo y los programas y se aumenta el riesgo de errores.
Muchos saben que es necesario defragmentar los discos pero pocos que se debe hacer lo mismo en el registro. Es parte de la limpieza trimestral que hacemos a nuestros clientes y que recomendamos a los usuarios (muchos nos la solicitan cada cierto tiempo para sus ordenadores personales).
Aquí os damos algún programa con el que hacerlo. Adevertencia: Tocar el registro puede ocasionar el que el sistema deje de funcionar. Recomendamos siempre hacer una copia de seguridad del registro antes de correr estos programas.
English: Window's registry stores all the information about what is in the computer and what we install, do or modify. Each of these modifications make the resgistry grow in size. We can clean it with tools like CCleaner (careful, use them with care, we only recommend CCleaner) but even then the blank spaces remain. This makes the registry grow and makes it more difficult for programs to find information in it, makes it use up more memory and take longer to load. So just as we clean the disk and defragment it, so should we defragment the registry. It's something we do to our clients every three months and many now order it from us for their personal computers.
Free registry defrag es un defragmentador muy sencillo pero muy útil. Sólo tiene dos botones, uno con el que analizamos el registro y, después de un rato (en el que el ordenador puede ir más lento o bloquearse como advierte) nos dice cuanto está fragmentado y si merece la pena realizar la tarea. Si es así el otro botón nos permitirá hacerlo. Simple, pero es que no es necesario más artificios. Eso si, seguramente podrían haberse esmerado un poco más en la interfaz gráfica….
Free registry defrag: is a very easy defrag utility. It has only two buttons, one which allows you to analyze de system (during which the computer might slow down or even freeze) . If it finds you need to run a defragment action the second button is activated and then you can run it. Easy but effective. However, I do feel they could have improved the layout a bit.
Eusing Free Registry Defrag es otra versión de la misma idea. La interfaz cambia algo aunque sigue siendo pobre pero es igual de efectivo. Aquí además te dice qué ficheros va a defragmentar. En las opciones conviene marcar la primera casilla para crear un punto de restauración antes de realizar cambios.
Eusing Free Registry Defrag is another version of the same idea. Visually it's a bit different, although still a bit poor, however it's as effective as the one above. You should click on options and enable the first box to create a system restore poing before modifying anything.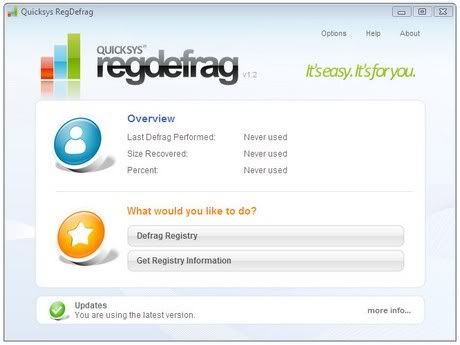 Quicksys ReDefrag es una mejora visual respecto a los anteriores. Además de ser más agradable y moderno a la vista, te informa de cuando se realizó la última defragmentación. Respecto al uso, es muy similar a los anteriores.
Quicksys ReDefrag is visually a huge improvement. It also gives you some extra information such as when was the last time you run the tool. However, when it comes to use, it's as efficient as the other two above.

Os recomendamos los siguientes productos relacionados con la informática: