La fecha final de la actualización gratuita a Windows 10 era el 29 de Julio, como avisamos en este artículo. A partir de entonces, en teoría, si quieres este sistema operativo tienes que pagar.
¿Que no lo quieres? Recuerda que Microsoft no se anda con chiquitas, deja de dar soporte a los anteriores pronto, con lo que tenemos un gran riesgo de virus (y con el ransomware no está la cosa como para jugar) y los fabricantes dejan de hacer programas para versiones anteriores.
PERO, a día de hoy, todavía es posible hacer la actualización gratuita con este truco. Y no hay fecha todavía para el fin de este método. Dicen que ellos avisarán antes del fin de la oferta: "We have not announced an end date of the free upgrade offer for customers using assistive technology. We will make a public announcement prior to ending the offer."
El método está pensado para la gente que usa "assistive technologies", es decir las herramientas de accesibilidad (teclado en pantalla, reconocimiento de voz etc).  Pero como todos los ordenadores lo tienen, y la actualización no hace ninguna verificación posterior, vale para cualquier ordenador.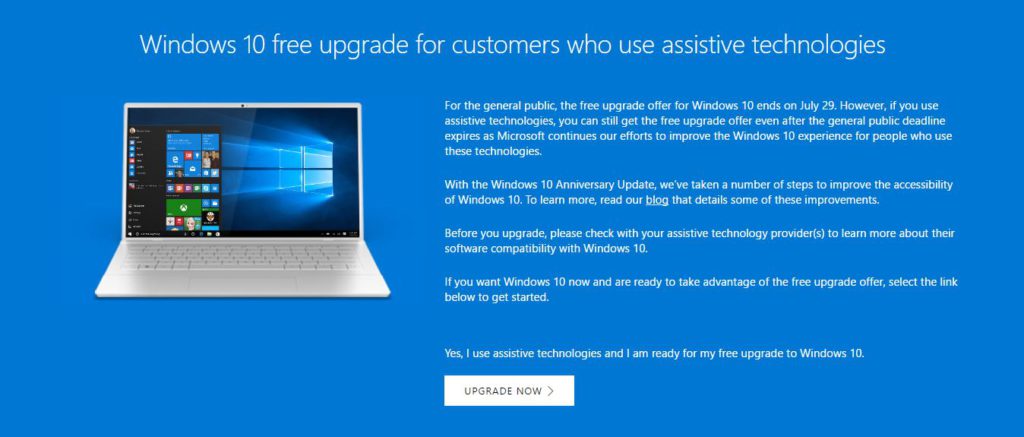 Para conseguir la actualización gratuita hay que ir a este enlace.  Después descargar la actualización y ejecutar el programa.
Si, por alguna razón, no has podido actualizar antes este método puede servirte. Si acaba el plazo esta vez, y todavía no has actualizado…te mereces pagar 😀
Os recomendamos los siguientes productos relacionados con la informática: