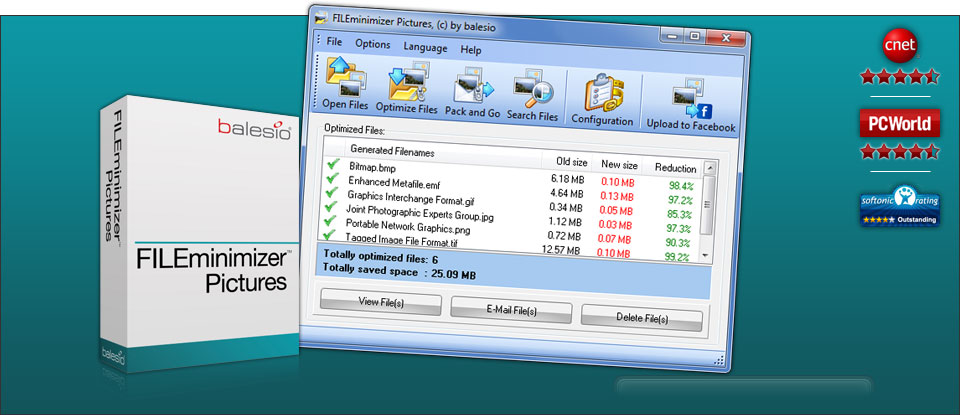 File Minimizer: http://www.balesio.com/fileminimizerpictures/eng/index.php
En estas fechas todo el mundo saca la cámara y se pone a hacer fotos. Y la mayoría tiene unas cámaras de "tropecientos" megapixeles que producen unas imágenes enormes y muy grandes. Luego llega el momento de almacenarlas, enviarlas o distribuirlas por otros medios. Y siempre surgen los mismos problemas no me caben las fotos o tarda mucho en copiarse.
Y es que ahora mismo las imágenes de las cámaras tienen mucha calidad, demasiado para el uso común, y los soportes o medios de envío no están preparados.
Este prequeño programa comprime la imagen o imágenes que le pasemos, reduciendo su tamaño (tanto en memoria como en tamaño de foto) sin reducir la calidad. Con esto podemos reducir las fotos hasta en un 90% consiguiendo maravillas como reducir una foto de 2Mb a poco más de 0,8.  Para plataformas Windows hasta Windows 7.
Probadlo, es útil… y realmente, para que la vean los amigos, ¿necesito una resolución profesional?
English:
During this festive season, everybody brings out the camera and starts taking pictures of the family and friends. Normally, these cameras have a trillion megapixels which produces great images.  However, when we want to send it to someone via email, FTP, Dropbox, MSN or even a USB pen we see that such a high resolution has it's price. Your average phot is around 3-4 Mb which makes a nuisance the transfer of any big amount. And it takes for ever.
This small program compresses images reducing them both in size and memory. We can obtain reductions of up to 90% which translates to converting a 2Mb image to barely 0,8 Mb, without reducing it's quality.
A very useful program for photo-loving users and for those who can´t bare waiting for the images to load or be sent.
Os recomendamos los siguientes productos relacionados con la informática: