Un problema que sufren muchos usuarios en casa o en el trabajo es que la wifi se corta intermitentemente, a veces con periodos de funcionamiento normal, otras con cortes repetidos. Es muy frustrante porque los equipos en wifi no suelen poder conectarse con cable.
¿La razón? Cada día más equipos tienen o se conectan por wifi, y cada día más casas lo tienen. Pero claro, estas wifis no se restringen a cada casa, sino que su alcance es mayor e interfieren unas con otras. Si a esto le sumamos los quioscos de prensa, los autobuses de la EMT , tiendas, aparatos de radio y que hasta los mircoondas pueden interferir……
¿ Cómo lo solucionamos? El kid es que cada aparato puede emitir en unas frecuencias determinadas (canales). La mayoría de los aparatos emiten en el canal 6…incluídos los routers del proveedor (esos aparatos blancos con antena que nos dan conexión ADSL). Hay que cambiar el canal de emisión.
¿A qué canal? Para eso tenemos el programa que hoy comentamos. Inssider es un analizador de wifis, nos escanea todas las emisiones en nuestra localización y da un montón de información acerca de ellas (canales,potencia etc). Además incluye gráficos muy simples como el siguiente desde el que podemos elegir qué canales están más vacíos.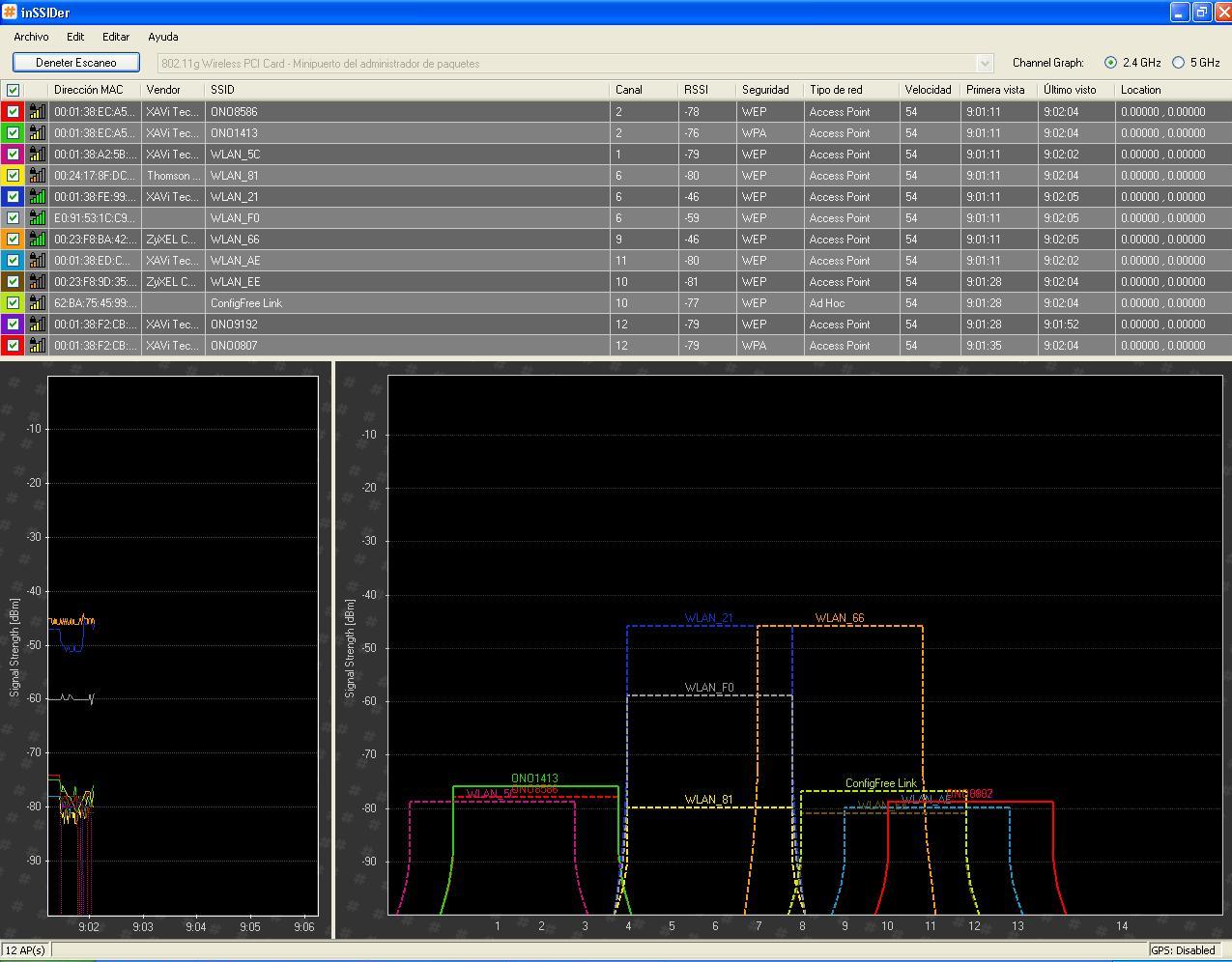 ¿Cómo se cambia el canal de la wifi? Eso lo dejamos para el siguiente artículo aunque en google se encuentr a demanera muu sencilla 😀
El programa se puede descargar desde aquí: http://www.metageek.net/products/inssider/
English:
One of the main complaints from our users is their wifi connection. We get a lot of feedback like "my connection keeps dropping", "I get periods of normal browsing and then the connection suddenly drops for a few seconds". It's really frustrating.
¿What's the reason for this? Nowadays more and more houses/offices have a wifi connection which, of course, does not restrict itself to the boundries of the office/house. To that we have to add loads of radio gadjets, wifi from the buses, hand-free phones, hotspots and even microwaves can produce interference!
¿What's the solution? Some of these wifi items can change the channel (frequency) in whihc they emit. Most of them do so in channel 6, but we can easily change our router's channel to find a range where there's the least interference.
¿Which channel should I choose? That's what programs like the one we comment today are very useful for. It scans all the available networks in our area and give uns information about strength, channel etc. It also shows all this in handy graphics which can let us choose the best frequency at a glance.
¿How do I change the channel in my router? I'll leave that for another post, but it's easily googled if someone can´t wait 😀
Os recomendamos los siguientes productos relacionados con la informática: