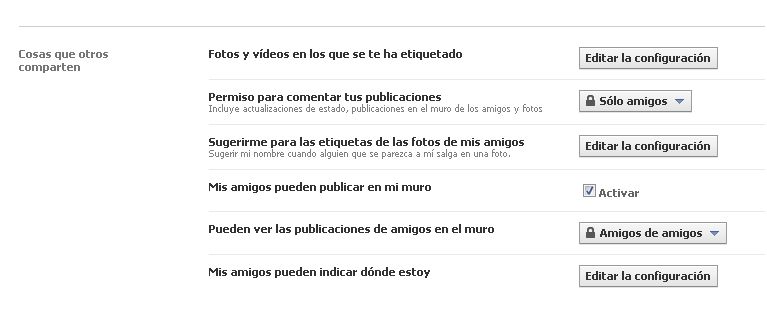 Hoy hablamos de otra novedad de Facebook controvertida: el reconocimiento facial. Lo anunciaron hace tiempo y parece que lo están activando ahora. Desde hace unos días, Facebook escaneará las fotos de tus amigos y, si te reconoce en ellas, les sugerirá que te etiqueten (con todas las consecuencias que eso conlleva).
Todo en esta red social tiene su parte buena y su parte mala, según cómo se lleve su uso.  Pero, como FB no permite algo tan simple como que puedas aprobar las etiquetas que hagan de ti sólo quitarla cuando el mal ya está hecho o restringir quién puede etiquetarte,  y como debemos fiarnos de la buena fe de la gente que sube fotos (algunos tienen poca) creo que es importante que sepamos cómo desactivar esta opción si así lo deseamos. Igual que un cuchillo, estas opciones no son malas per se, sólo el uso que se haga de ellas.
Para ello debemos ir a Cuenta>Configuración de la privacidad>Personalizar la configuración y en Sugerirme para las etiquetas de las fotos de mis amigos pinchar en Editar la configuración.  Ahí podremos activar o desactivar esta opción.
Today we want to write about another of those controversial new Facebook features: face recognition and suggesting tags.
Everything in this social network has is good aspects and its drawbacks, depending on how you take them in. But, since Facebook doesn´t allow something as simple as approving tags of you other people make, and as the only thing you can do is either remove them when the damage has been done, or restrict who can tag you, we think is important for people to know how to deactivate this feature. However, we are not saying it is a bad feature, just as a knife is not bad per se, it all depends on the use you make of it.
To remove this option go to your Facebook account's privacy settings, then click on "Customise settings".
Under "Things others share" there is an option titled "Suggest photos of me to friends. When photos look like me, suggest my name". Click on "Edit settings" to get the option to disable this.
Os recomendamos los siguientes productos relacionados con la informática: