Hoy en día trabajamos con muchos dispositivos. El ordenador del trabajo, el de casa (a veces varios) móviles etc. Y el uso de marcadores (favoritos) se puede volver algo caótico. Los navegadores resuelven esto de manera sencilla, hablaremos hoy de Chrome (porque lo usamos,  lo recomendamos y lo hace de manera muy sencilla).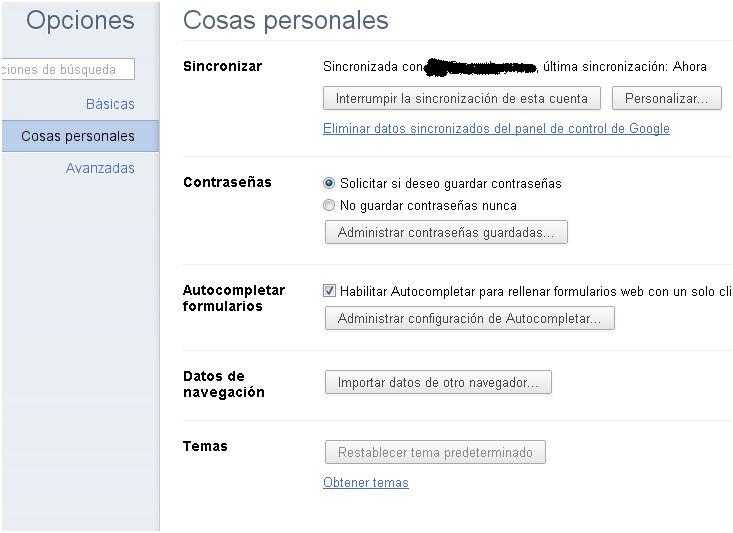 La sincronización de datos en Chrome es sencilla pero no está habilitada por defecto.  Para hacerlo hay que ir a la llave inglesa (arriba a la derecha), pinchar en Opciones, Cosas Personales. La primera opción es sincronizar. Si pinchamos nos pedirá que pongamos el nombre y la contraseña, y después qué datos queremos sincronizar (podemos hacer marcadores, aplicaciones, autocompletado, y muchos otros). Una vez seleccionado, esta opción sube los marcadores a nuestra cuenta de Google Docs (cifrado), y lo sincronizará con cualquier navegador Chrome en el que habilitemos esta opción.  Más información aquí.
Esto hace la vida mucho más fácil y es multiplataforma.
Nowadays we all tend to use the Internet of various devices: work computer, home PC, smartphones, tablets and so on. Once you've done this for a while, you'll find your bookmarks tend to become chaos. Web browsers help you with this taks. Some do so with apps, Chrome does it very easily. This is how.
Go to the wrench (top right hand corner), then Options, Personal Stuff and you will see the first option is Set up Sync. Just enter your username and password and which personal data you want to syncronize. DO so on all computers and you'll be fully synced. As easy as that. And works on most OS. More information here.
Os recomendamos los siguientes productos relacionados con la informática: