En ocasiones nuestro ordenador deja de repente de funcionar "como una seda". Por alguna razón que desconocemos se bloquea, pega pantallazos azules o algún servicio de para con frecuencia. Evidentemente lo primero es limpiar el ordenador para ver si algún bicho está afectando al rendimiento, pero las causas pueden ser otras menos invasivas (pero igual de problemáticas) como un parche instalado recientemente, un driver o un programa.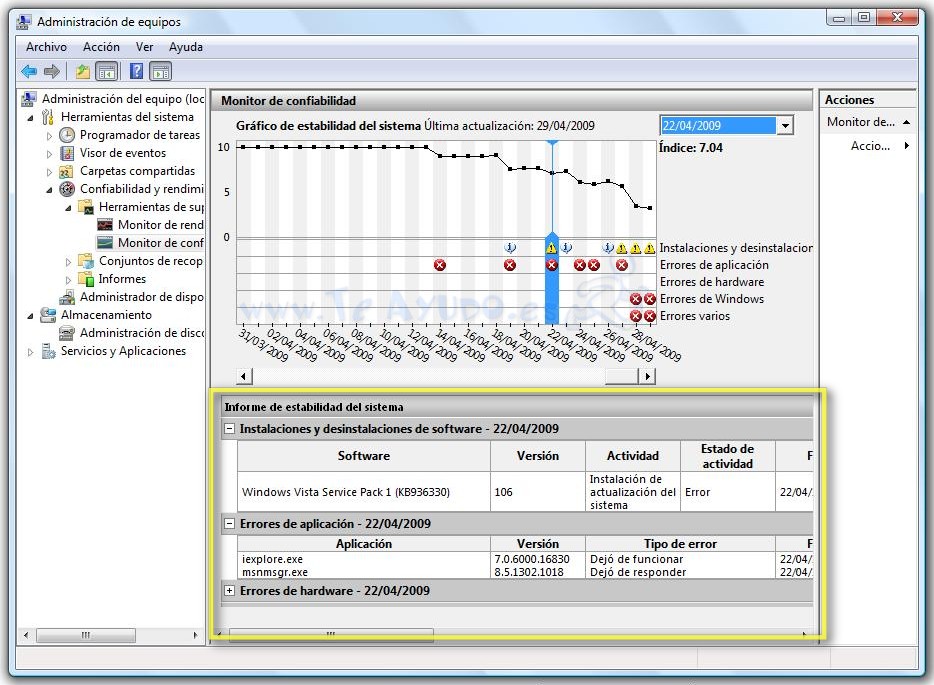 Para estos casos viene muy bien el Monitor de Confiabilidad de Microsoft en Vista. Se puede acceder de varias maneras, lo más seguro es ir a Inicio, Panel de Control, Herramientas Administrativas y Monitor de Confiabilidad. Ahí lo más útil es elegir el gráfico "monitor de confiabilidad". Nos indica de manera visual, y por fechas, el rendimiento de nuestro equipo y cuando ha bajado. Al mismo tiempo nos dice qué se ha instalado ese día y podemos ver si la causa ha sido esa. Así podemos desinstalarlo o hacer un system restore a una fecha anterior.
En Windows 7 se puede obtener de una manera algo más compleja.
Muy útil.
Sometimes our computer stops running as smoothly as it used to: it freezes, we get blue screens of death or services stop responding. This is often due to malware, and we should do a cleanup. However, it is sometimes caused by the installation of a system patch, a driver or a program. And it is difficult to find the cause.
This tool from Microsft can be used for this. It shows a graph with the stability of the system by date plus the installations that were done on that day. This way we can easily find the cause of the disruption.
Very useful.
Os recomendamos los siguientes productos relacionados con la informática: