Nosotros preferimos utilizar una combinación de programas para limpiar y optimizar el PC. Pero es cierto que, para alguien sin conocimientos técnicos, esto es demasiado complicado. Estos dos programas son perfectos para la gente que sea consciente que el ordenador necesita un mantenimiento, no sepa demasiado sobre el tema y no pueda gastarse dinero en un profesional. Eso si, sed conscientes que alguna de las reparaciones automáticas puede provocar que el equipo sea inestable (cada equipo es un mundo). Siempre estamos nosotros en remoto para arreglarlo si lo necesitáis 😀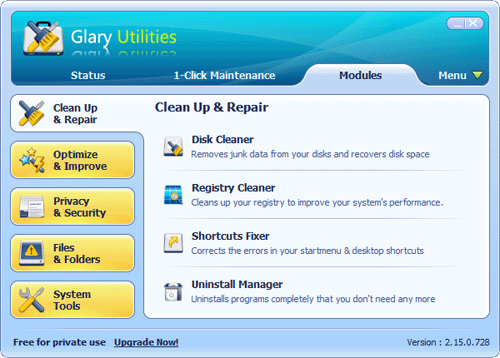 Disponen de una versión gratuita y una de pago. La gratuita, como podéis ver en la imagen, dispone de muchas secciones para controlar y optimizar los recursos de nuestro ordenador.
Además dispone de una sección para realizar lo básico con un sólo click. Personalmente nos gusta que tenga limpieza y defragmentador del registro como dos secciones diferenciadas pero accesibles.
Glary utilities has both a free and a pro version. The free version, as you can see in the image, has loads of options to clean and boost your Pc's resources. It has a very useful one click manteinance option too. We like that they've included cleaning and defragmenting the registry in the free option and as 2 separate options.
Winmate tiene mucha de las mismas opciones que el programa anterior. Nos parece seguramente más sencillo de usar y hemos descubierto que la opción de acelerar el PC es muy potente (los mejores resultados que hemos encontrado). Eso si, también es más intrusivo y tiene una cosa que no nos gusta, se queda residente en memoria y no encontramos la opción de quitar esa opción. Así que muchas veces optamos por instalarlo, usarlo y luego quitarlo.
WinMate has the same otions as Glary, but probably in a more user friendly interface (and probably more risky). And the "boost your performance" option produces the best results we've seen so far. However, it stays resident as a startup program and we can´t find an option to remove that feature. So we tend to install it, use it and then remove it.But it is a really powerful tool.
Os recomendamos los siguientes productos relacionados con la informática: