Esto es un lío, en mi opinión incomprensible, que ha organizado Microsoft y del que hay poca información en Internet. Así que a ver si consigo explicarlo.
Las versiones profesionles de Office y Office 365 incluyen Skype Empresarial. Un nombre que conduce a error, porque Skype Empresarial era Lync renombrado (no lo mismo que Skype)…y daba problemas con Skype Free (el original).
Bueno…pues ahora Microsoft está recomendando encarecidamente migrar a Microsoft Teams, sin indicar claramente que esto tiene ciertas consecuencias con Skype (nos ha costado mucho encontrarlo).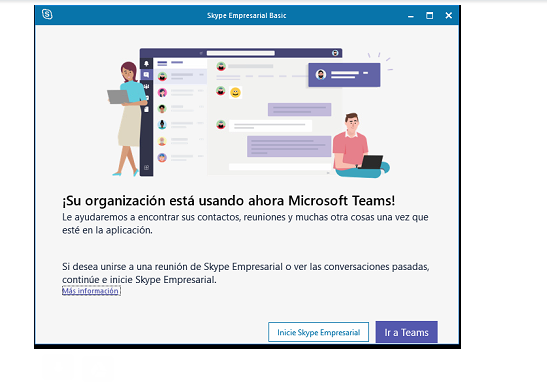 Microsoft Teams deshabilita Skype Empresarial y no permite llamar a Skype Free.
Esta información no la pone Microsoft en ningún sitio "asequible". No es que lo digamos nosotros, es que los usuarios que hemos atendido se han sorprendido al conocerla tras realizar la instalación.
Una vez actualizado a Teams, se desactiva el poder usar Skye Empresarial para nuevas llamadas. Podéis verlo aquí. Cito: " Your organization has upgraded to Microsoft Teams. While you'll still be able to edit, cancel, or join existing Skype for Business meetings, you won't be able to use Skype for Business to chat, make calls, or create new meetings."
Microsoft Teams sirve para conectarse a Microsoft Teams y Skype Empresa. Pero NO para hacer llamadas a Skype Gratis (Skype free). Que es lo que quiere la mayoría de usuarios. Esto no es fácil
¿Solución?
Por ahora la única que hemos encontrado ha sido que si tienes Teams (ya no se puede volver atrás) crees cuentas de Skype Free con tus cuentas de Office. Así podrás usar Teams para Skype for Business y Skype Free para concetarte a Skype gratis.
Hemos probado y no puedes darte de alta en Skype Free con cuentas de Office 365. Así que tienes que hacerlo con cuentas gratuitas.
Os recomendamos los siguientes productos relacionados con la informática: